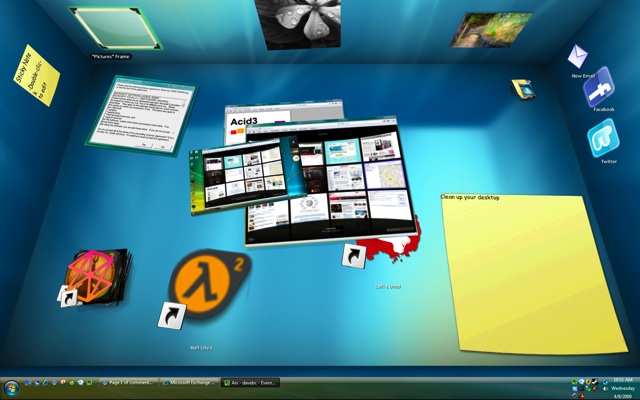 On Monday Google announced the acquisition of the Canadian
creation Bumptop, the 3D organizing software that allows users to turn
their desktop into true visual and tactile experience. Photos,
documents, notes, etc. can be combined in a space similar to a physical
desktop to be sorted, stacked and manipulated all with the swipe of a
fingertip.
Torontonian and former UofT alum Anand Agarawala created Bumptop as a
project for his Masters Thesis in Computer Science. He created the
company from scratch, and has managed and run all aspects of the company
up until now. Wearing many hats, Agarawala has had his hands in
everything from development and international sales, up to the Google
acquisition.
One of The Blog Studio staff was extremely fortunate to hear
Agarawala speak in 2008 during a TED convention at the University of
Toronto.  At this time, Agarawala created big buzz on the TED
circuit as an innovator and maverick, but publicly Bumptop remained
relatively unknown in the crowded world of desktop apps.
Agarawala's presentation stood out and created a lasting impression on
the audience. He led us through Bumptop's different technological
possibilities—which seemed almost limitless— and it was clear that this
had changed interface expectations and brought user/desktop
interactivity to a whole new level.
Bumptop is best experienced firsthand, but we would like to share
some of our experiences using the free version (a free trial is
available until May 7th at www.bumtop.com/download).
In terms of usability, Bumptop is best suited to smartphones and other
touch screen platforms.  We are assuming Agarawala built Bumptop
for touch screens and then ported it to other platforms, because of high
user demand. This software defies and expands all expectations. If it's
used (as rumoured) on Google's next Android smart phone I think
consumers will quickly adapt Bumptop as the desktop interface of choice.
We have been listening to the twitterati regarding this acquisition,
and here are some of the most popular and compelling tweets from our
peers:
@StBarg Bumptop acquisition to give Google UI edge over Apple? http://bit.ly/ccK38z #Google #Microsoft #Apple #opensource http://bit.ly/913Pq0
@Juanarroyo I am now using BumpTop as my desktop, have to say its really good for a free tool that makes your desktop 3D!
@behbime experimenting with bumptop! thanks achi trace!
@santhoshdivakar Trying this new 3D desktop software called bumptop, loving the small cute feature set : http://eol.bumptop.com/download.php #in
@Joyost I'm excited to see what #Google does with #BumpTop. Here's what #Android could look like http://ow.ly/1Hirs
@thomdahl Übercool "arbejdsværelse" på din computer (nu købt af Google): http://bit.ly/95lBPz #bumptop #innovation
@JoHoule Dernière chance de télécharger BumpTop la nouvelle acquisition de Google! Le futur des interfaces desktop ? http://bit.ly/3nDkTi
@renatobon Preguiça de usar o #BumpTop …mas achei mega interessante! http://bit.ly/ymjf
The CBC has done a great piece on Bumptop and posted a live demo for their viewers.  You can visit cbc.ca to learn more about this useful new app.