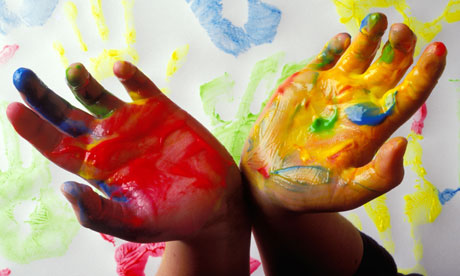 I've been having a lot of fun painting with my daughters, Zoë, age
6, and Ella, age 4. We've been producing some startlingly beautiful
things. We're learning so much from each other. I'm learning to paint
with the abandon of a 4 year old, and the kids are experimenting and
learning new techniques.
We went through about 75 sheets of watercolour paper over the
weekend. Initially, I had fits of anxiety at the thought of letting my
kids use my fancy paper and nice brushes. But at one point, I realized
that the paper only cost 25 bucks, that the paint cost less than 10 –
cheaper than going to a movie, and far more rewarding.
Here are a couple of my favorites. I've posted more to my flickr account.
By Zoe, age 6
By Peter, age 37
By Peter, age 37
By Ella, age 4